Baja Gray Whale Watching Tour Packages from San Diego – Unforgettable Adventures Awaits
With its warm waters and rich marine life, Baja is the perfect destination for whale enthusiasts. Most Baja Gray Whale Watching Tour Packages offer a unique opportunity to witness these gentle giants in their natural habitat. As you observe them breaching, spy hopping, and swimming alongside your boat, prepare to be captivated. This experience promises both education and a thrilling adventure for your entire family.
Baja California Sur, renowned for its gray whale sightings, provides an unparalleled opportunity to witness these magnificent creatures in their element. These gentle giants embark on a remarkable journey, migrating over 10,000 miles from their Arctic feeding grounds to the coastal lagoons of southern Baja. The best winter home of the gray whale, Ojo de Liebre (Scammons Lagoon), is where you can intimately connect with these creatures. It's common to have close encounters with baby gray whales in the wild.
Best Months for Baja Gray Whale Watching Tour Packages
Baja is a haven for whale-watching enthusiasts. From February to April, Gray Whale watching tour packages coincide with the annual migration of Gray Whales from Arctic waters to the warmer lagoons of Baja. During this time, you can witness these gentle giants breaching and spouting just yards away from your boat, creating a truly unforgettable experience. Other remarkable species like Humpback Whales, Blue Whales, and ten other whale species can be spotted in the Midriff Island region around Las Animas Ecolodge on the Sea of Cortez in Baja, Mexico.
Why Ojo de Liebre (Scammons Lagoon) Is Ideal for Gray Whale Watching
Ojo de Liebre, also known as Scammons Lagoon, is hailed as the best location for gray whale watching for several compelling reasons. Firstly, it's a protected marine sanctuary, annually welcoming the most Gray whales from Alaska. The back lagoon boasts shallow, tranquil waters in the famous "whale nursery," making it easier to spot and observe the whales, including baby gray whales and mothers, up close. Furthermore, experienced guides are available to provide valuable insights into the whales and their natural habitat. Ojo de Liebre ensures a unique opportunity to witness these magnificent creatures in their untouched environment.
The Whale Nursery in Scammons Lagoon
The Scammons Lagoon whale nursery in Baja California, Mexico, is a natural sanctuary for baby gray whales. Thousands of gray whales migrate to this lagoon yearly to give birth and nurture their young. It's one of the rare places worldwide where visitors can witness these majestic creatures up close and personal. The best baby whale watching season typically spans from mid-January to mid-April, attracting tourists from across the globe.
Unforgettable Moments with Newborn Gray Whales
We take pride in offering guests the opportunity to get up close and personal with Pacific Gray Whales born in Ojo de Liebre lagoon. Kids love to have the best encounters with newborn Gray Whales. As visitors head out into the lagoons on small whale-watching boats, these intimate experiences with gentle giants are widespread. There's nothing quite like getting close to these gentle giants.  And if you get a chance, petting a gray whale is something you and your kids will never forget.
Balancing the Impact of Whale Watching Tours
Whale-watching tours can have both positive and negative effects on these magnificent creatures. While they offer educational opportunities, they can also disrupt natural habitats, causing stress and harm to whale populations if not done by professionals. As professional tour operators, we adhere to strict guidelines and regulations to minimize any negative impact. Our commitment to responsible tourism ensures that our Baja Gray Whale Watching Tour Packages are conducted sustainably, benefiting both the whales and passionate observers.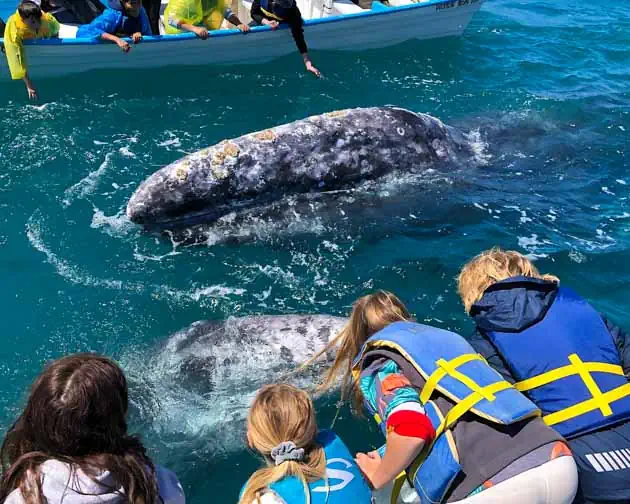 What is the Duration of Baja Gray Whale Watching Tours from San Diego?
The duration of Baja whale-watching tours can vary, depending on the specific tour package and operator. Some tours last for only a few hours, while Baja Spirit's " Best of Baja's Whale, Dolphins, and Sea Lions" tour lasts six days and includes both sides of the Baja Peninsula. We recommend checking with tour operators 3 -6 months in advance to ensure your chosen tour aligns with your preferences. Remember that whale sightings are not guaranteed, but during peak season in Ojo de Liebre, you can be assured of seeing gray whales.
Plan Your Adventure with Baja Gray Whale Watching Tour Packages
The possibilities are endless in the waters of Baja and the Sea of Cortez. You can encounter giant schools of dolphins enveloping your boat, numbering in the hundreds. Sea lions swimming alongside you as you snorkel clear waters add to the magic of the experience. Baja Spirit's tours explore the regions where whales play and exhibit different behavior patterns, providing a deeper connection to these incredible creatures.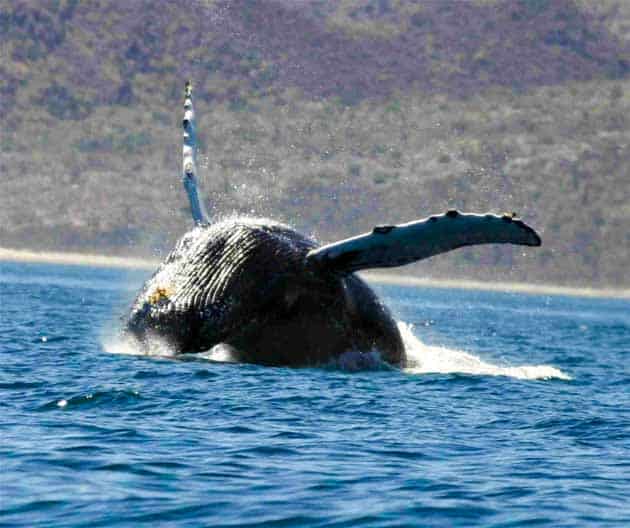 The Best of Baja: Marine Wildlife Extravaganza
Baja Spirit's all-inclusive "Best of Baja Gray Whale Watching Tour Packages" not only encompass Gray whales on the Pacific side of Baja but also include snorkeling with sea lions, kayaking, and possible Blue whale and finback whale sightings on the Sea of Cortex. These adventures allow you to explore the Sea of Cortez and its islands in a Mexican national marine park. The Midriff Island region of the Sea of Cortez, where our Las Animas Ecolodge is located, is one of the most vibrant marine ecosystems in the world.
In addition to dolphins, the federally protected Sea of Cortez and Ojo de Liebre lagoon are home to a plethora of sea life, including bottlenose dolphins, sea lions, and dense mangroves that provide cover for a diverse range of sea birds and migratory species.
Why Choose Baja Spirit for Whale Watching Tour Packages?
Since 1989, our all-inclusive 6-day Baja gray whale watching tour packages from San Diego offers a unique opportunity to witness these gentle giants in their natural habitat. Our expert guides will lead you to the best spots for Gray whale sightings and sometimes Blue Whales and finback whales on the Sea of Cortez.
Many Baja whale-watching tour operators' lodging is a rustic camp with soft-sided tents and cots, which can be less than comfortable in Baja's winter and spring storms and winds.  That's why we use a very comfortable B&B with beds in Guerro Negro, and our Las Animas Ecolodge on the Sea of Cortez, ranked by Tripadvisor as the #1 Specialty Lodging in Baja California.
We are the only tour operator offering both sides of the Baja Peninsula, including an opportunity to experience the Valle de Los Cirrios protected desert preserve. Home of the Saguaro, the world's tallest cactus
Call us at 1-619-421-2235 to fully immerse yourself in this incredible wildlife spectacle and the beauty of Baja's coastline and interior. We prioritize responsible and sustainable practices for an enriching soft eco-adventure since 1989.