Baja Whale Shark Tour Snorkeling Questions and Answers to Help You Decide if  Experiencing Baja Whale Sharks is the Right "Bucket List Trip for You.
Let's face it. Whale sharks look like sharks and are really BIG. This can bring up questions and concerns. Maybe you?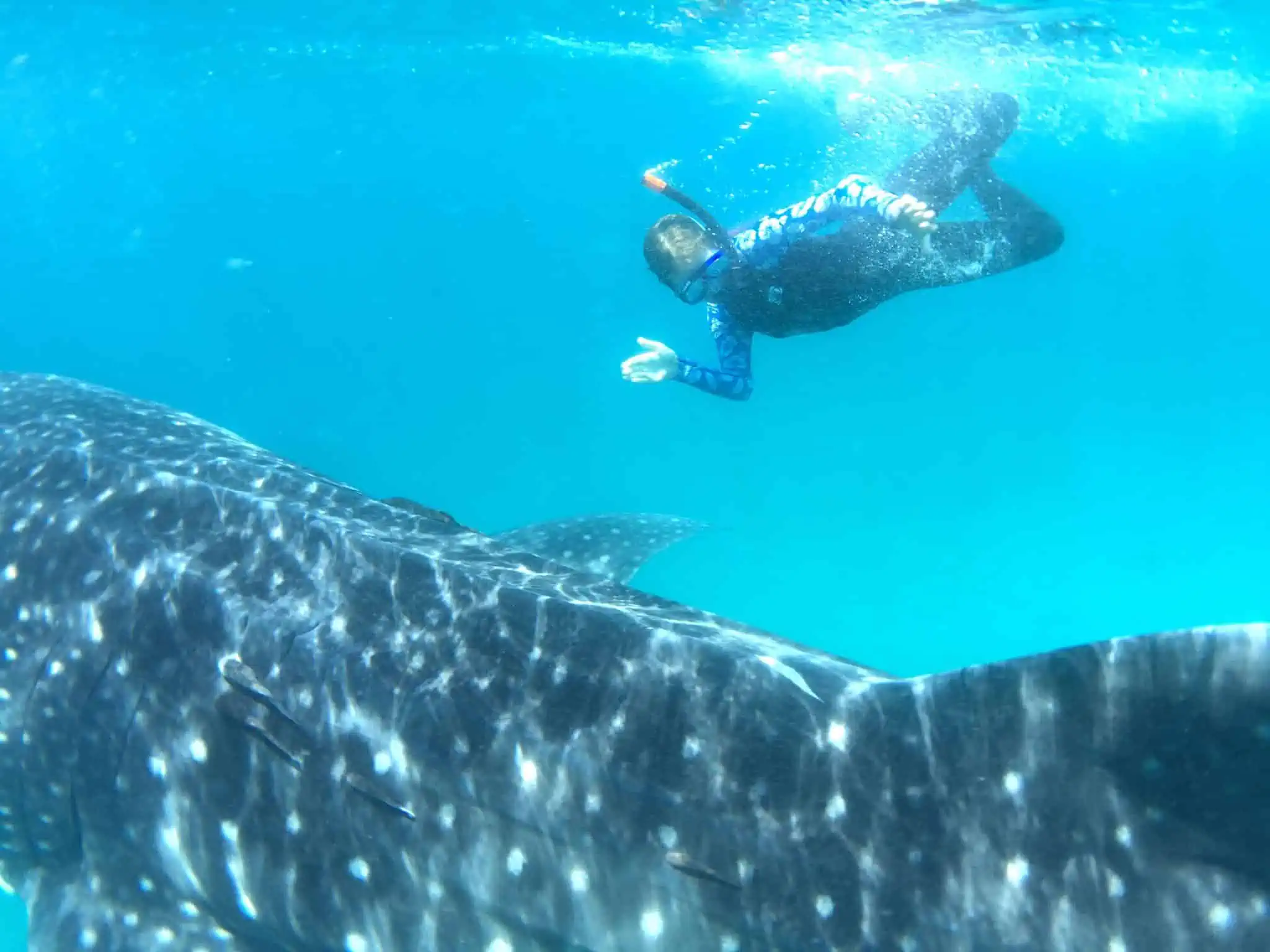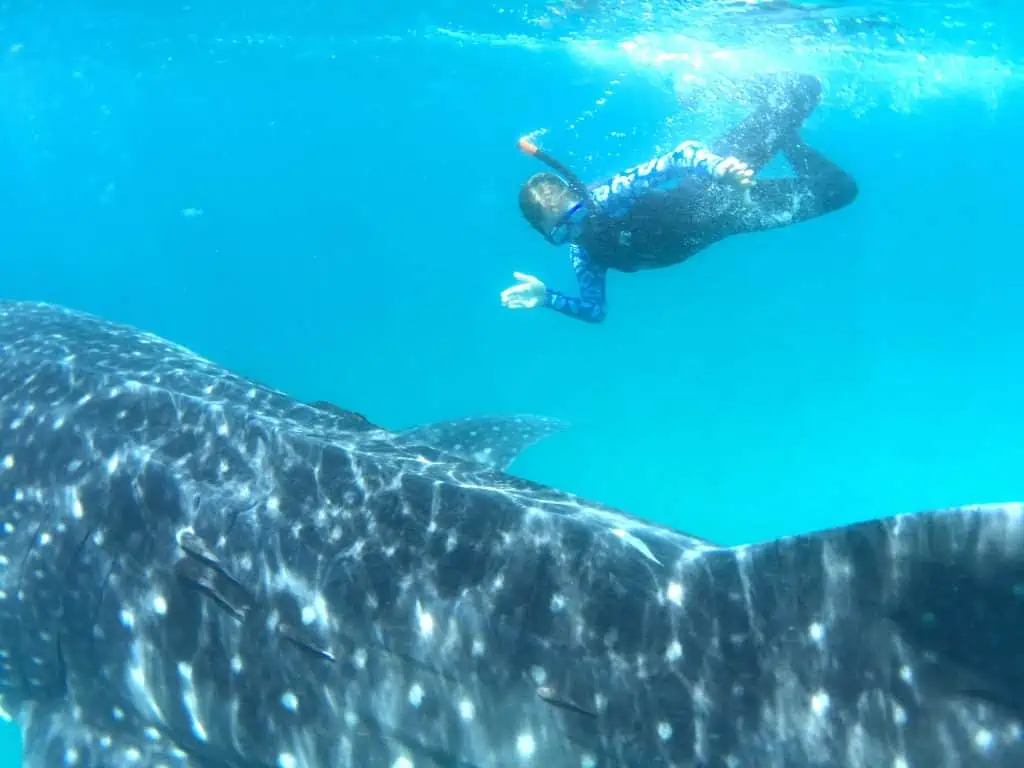 So why would someone want to take a special trip to see them and maybe even swim alongside them like this photo?
What we most commonly hear is, "Because it is AWESOME!!!"
Many dream of having this awesome bucket list experience but have many questions. That's why Kevin & 'Tourism Tim" Warren, who have over 60 years combined Baja, Mexico adventure & travel experience, are answering many of your top questions below.
#1: Do whale sharks attack humans or are they dangerous to snorkel with?
The answer is NO.
Whale sharks are not sharks at all but the world's largest fish and one of the slowest moving fish, too.
When we see them from the boat or in the water, they feed on abundant plankton and have little interest in humans.
People all over the world for many, many years have swam alongside these gentle giants and have never had any problems.
#2: Do I have to be a good swimmer to snorkel with whale sharks?
Not at all. In fact we have had many guest who can't swim at all enjoy this experience from in the boat and in the water. They wear life preservers and have our guides in the water with them holding their hands.
These gentle whale sharks often swim right up to or under the boat so you can see them clearly – without even getting out of the boat.
#3: How many whale sharks might I see in a day or during your trip?
The Midriff Island region near Las Animas Ecolodge is known as the "Galapagos of Mexico" because of the richness of life above and below the water in this unique, isolated marine environment. This is because deep water upwelling near us brings nutrient-rich warm waters teaming with plankton to protected back bays, which whale sharks love.
Every year, dozens of adults and juveniles of all sizes ( 12′ to almost 40′) gather like clockwork to feed.
We have never had a trip where whale sharks have not been spotted.
It is not unusual to see 5 – 10 in a morning outing.
In fact, Kevin and I personally swam with a pod of 4 or 5, all swimming together in circles at the same time while hundreds of game fish and birds fed on tens of thousands of bait fish at the same time. It was EPIC!
#4 When is the best time to experience whale sharks near Las Animas Ecolodge?
Mid-August till the end of October provides the highest concentration of whale sharks because that's when the waters near Las Animas are the warmest ( 80F+) and most rich with plankton.
The whale sharks tend to congregate in the protected bay, often swimming in shallow waters less than 30′ deep.
The calm, warm waters near Las Animas Ecolodge provide the perfect setting for this truly bucket list experience and the MANY other activities and places to explore.
If you are ready to do something truly epic (or want to see if this is right for you), then check the Swimming with Whale Shark open dates here and call Kevin Warren, founder of Baja Spirit Ecolodges and Tours ( formerly Baja AirVentures – same owners and tours, just new name) today. 1-619-421-2235
These popular whale shark snorkeling tours often sell out three to six months or more in advance.
To your Awesome Adventures, Kevin Warren & 'Tourism Tim" Warren and Team Baja Spirit

5-Star Tripadvisor Review from Kathleen, San Diego
"If you like remote unspoiled wilderness where few ever get to travel, then Las Animas is for you.
We loved the experience, the beauty of the Gulf of California, and the responsive staff. The food was fabulous (fresh ceviche, clams, scallops) and my husband enjoyed fishing for his own dinner.
The flight to and from was scenic and hassle-free (no driving in Mexico). Give it a try!!"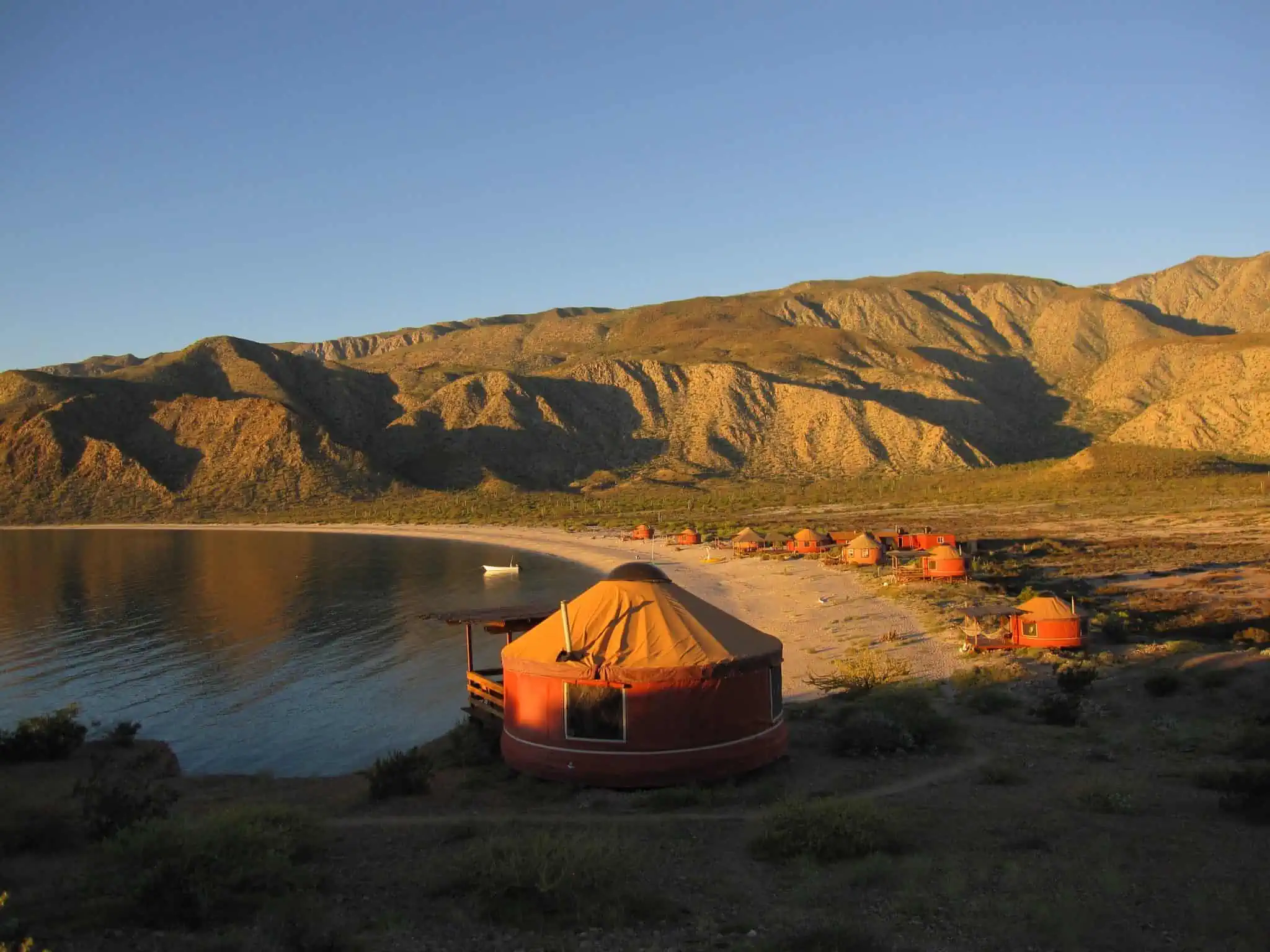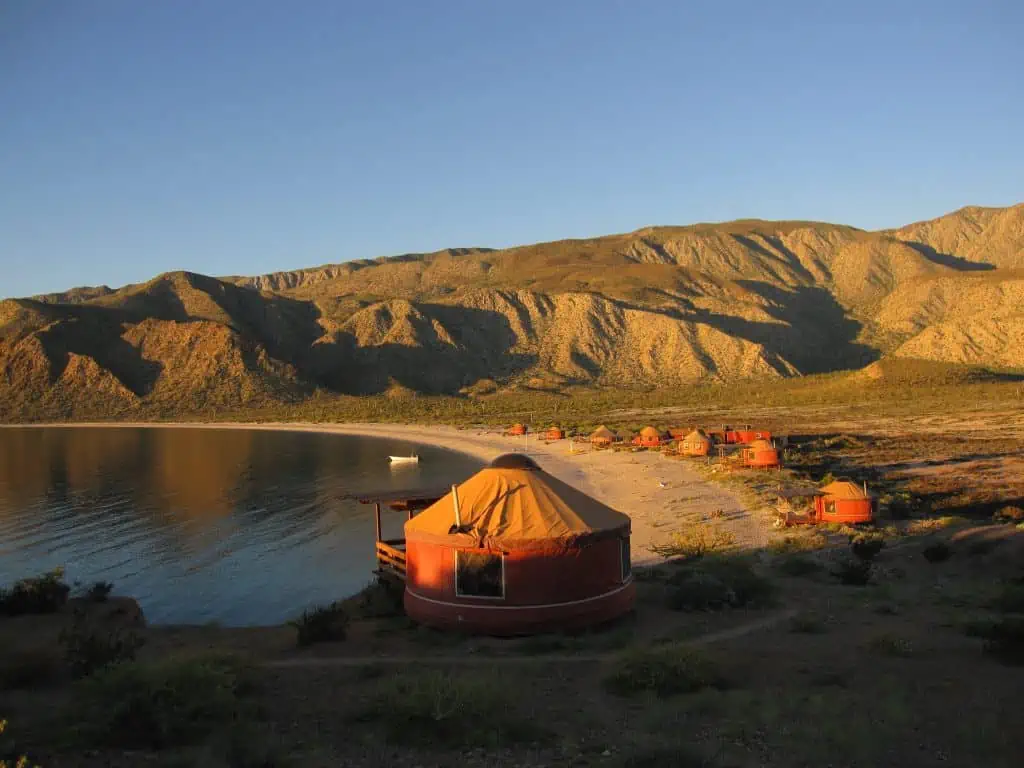 Answers to your Top Baja Whale Shark Tour Snorkeling Questions
Baja Spirit & Las Animas Ecolodge
Celebrating 30+ Years of Baja Eco-Adventure Travel