Spring & Summer Program
The "Magic of the Midriff" Islands Tour
The Remote Diversity of the Galapagos, Only 3 Hours from San Diego
Baja EcoLodge & Tours, Central Sea of Cortez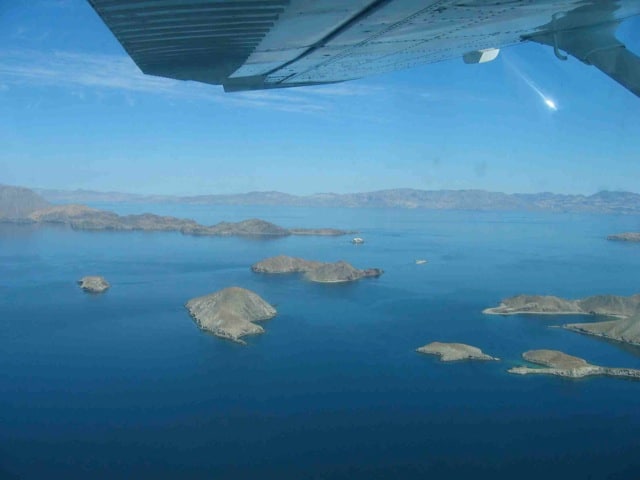 "The Galapogos
of Mexico"
Whale Watch • Kayak • Nature Walks • Island Exploration • Snorkel • Paddle Board • Sail
Marine Mammal Interaction • Birding • Small Groups • All-inclusive • No Zika Mosquitos
U.S. Based Co. • UNESCO World Heritage Site • Las Animas Ecolodge • Air Conditioning
 #1 Specialty Lodging Baja California


The "Magic of the Midriff Islands tour" Spring and Summer program provides you a one of a kind immersion into a remote island region author John Steinbeck called the "Galapagos of Mexico", yet only 3 hours from San Diego. Imagine over 30 pristine islands filled with unique and rare marine and desert animals, 8 species of whales; including the largest in the world, Blue Whales and finback, curious and friendly Sea Lions lounging on nearby islands that love to swim with you, countless birds, mountains, white sand beaches and some of the best star gazing in the northern hemisphere. A secluded eco-lodge and custom tours entirely free of schedules, crowds or phones. Where seafood harvested hours before, delicious Mexican food and happy hour at sunset are events you'll never forget…. A wilderness ecolodge where you're surrounded by everything you need for the perfect adventure, and nothing more. Baja AirVenture's
Las Animas EcoLodge
is most certainly your best vacation destination to experience the "
Best of the
Sea of Cortez"
in a private, secluded setting, with minimal travel time and where your safety and enjoyment are top priorities. And now with air-conditioning and fans in the beachside yurts, Baja spring and summer vacations have never been do fun.
Magic of the Midriff Island Tours Highlights – Enjoy
Midriff Islands Tours, Sea of Cortez
The Triple Crown of Nature Preservation, Islands and Tranquility
Here's a brief overview of the totally unique nature you will experience on your daily excursions that showcase Baja's Midriff Island region (
see right-hand side bar for daily itinerary outlines
). Few places on the planet offer this much protected lands, oceans, wildlife and birds so close to the US and so free of tourists like Southern Baja. What makes this remote place so special is the fusion of several totally unique land, mountain and ocean ecosytems. You have the abundant Sonoran Desert filled with exotic cactus and wildlife, 6,000' mountains cascading down into over 30 local island and countless deserted white sand beaches and clear blue seas. The
Sea of Cortez
(also known as the
Gulf of California
or
Vermilion Sea
; is thought to be one of the most diverse seas on the planet. You have three different protected world heritage sites, national parks and marine preserve, all in one area. The includes:
UNESCO World Heritage Site
Isla de Golfo de California
Valle de Los Cirios Desert Preserve
Add in the fact that the region gets almost no tourists, and the Mexican government is protecting this area makes it truly one of the world's richest natural environments. And because it is a dry desert, the Zika mosquito and virus cannot exist here.
A Unique and Rich Ecosystem:  Whales • Fish • Birds
What makes this ecosystem unique in the world is the 5,000' deep marine trench just off shore from Las Animas ecolodge which creates deep water, nutrient rich upwelling which starts the chain of marine life the local fish, birds and marine mammals feast on. This attracts the world's largest and second largest animals, the blue and fin whales, plus other species, such as the humpback whale, California gray whale, killer whale, sperm whales, manta ray, Humboldt squid and leatherback sea turtle. This region has historically been a magnet for world-class sport fishing activities with 891 species, 90 of them endemic. The site, moreover, contains 39% of the world's total number of species of marine mammals and a third of the world's marine cetacean species. It is home to more than 5,000 species of micro-invertebrates.
World Class Birding – Sea of Cortez
The Gulf of California sustains a large number of marine mammals, many of which are rare and endangered. Its more than 30 local islands are important nesting sites for 100's of thousands of seabirds, and its waters are primary breeding, feeding, and nursing grounds for myriad migratory and resident fish species. Only 15 miles from Las Animas ecolodge is
Mexico very first bird sanctuary, Isla Raza
which is the protected nesting site of 90% of the world's elegant terns.
4o Year Eco-Adventure Travel Expert
Reflects on the Midriff Island Region
"A place so remote and off the grid, you can see islands 50 miles away, and at night not a single light on the horizon.…"
2023 Magic of the Midriff Island Tour Dates
6-day All-inclusive @ $2495
April & May 2023
Call for departure dates
6-day trips depart Monday 7:00 AM returning Saturday 5:00 PM
Custom and longer trips available
*Please add 13% Mexican government IVA & 3% National Park Tax*
No bookings and departure dates are confirmed without signed advance reservation form and paid deposits.
Date change requests are ONLY valid with mutual written agreement. Date change fee may apply.
Baja Magic of the Midriff Islands Tours

based from Award Winning Las Animas Wilderness Eco-Lodge..
Itinerary
AM & PM Guided Eco-Adventures
Morning Guided Eco-Adventures Our flexible schedule is based on what Mother Nature is doing at any moment to maximize your interaction and discovery. The actual sequence of daily excursion may vary. Afternoon Eco-Adventures Midday you return to Las Animas for a delicious fresh lunch. Your afternoons give you lots of opportunities for more fun and sport at no cost. This includes: snorkeling, kayaking, fishing, birding, sailing, more off-shore islands exploration by boat, finding your own private cove with no one around, or simply relaxing in your private hammock taking in the peace and serenity of this true untouched wilderness area.
Day 1: Journey to the Magical Midriff's
Enjoy awesome aerial views from San Diego to the magical Midriff Island Region near Bahia de Los Angeles on the blue Sea of Cortez where we transfer to our boats. Continue to Las Animas Ecolodge for orientation and lunch. Spend the afternoon exploring local beaches via boats, kayaks and on foot. Evenings start with sunset margaritas or wine followed by fantastic Mexican and fresh seafood, a campfire on the beach, star filled skies, fun, tranquility and solitude. (L, D)
Day 2: Mangrove Estuary & Fish Camp Exploration
(AM or PM depending on tide) Delicious breakfast at 8, depart by boat to explore a rich mangrove estuary by foot and wading clear shallow waters. See crabs, birds, fish, specialized plants, shell-rich beach comb and more in this amazing ecosystem surrounded by the exotic Sonoran desert.   Then on to a remote subsistence fishing camp to see and learn first hand how locals have lived and worked on the Sea of Cortez for generations in this area. (B, L, D)
Day 3: Multi-Island & Sea Adventure
Explore by boat over eight local islands, including the extinct volcano Isla Smith for the chance to see whales, pods of friendly dolphins, manta rays, nesting birds and much more. On Isla Smith we will explore crystal clear bays by boat searching for giant stingrays. (Get Smith Island photo) (B, L, D
Day 4: Sea Caves, Ocean Arches & Mountain Geology
Depart after breakfast by boat heading south to see natural arches, massive sea cliffs that cascade into deep blue oceans, marine mammal viewing, remote estuaries, clear bay snorkeling and a chance to see the rare desert Big Horn Sheep. (B, L, D)
Day 5: Bay to Bay Desert Nature Walk
Delicious breakfast then onto Quemado Bay by boat for a special desert interpretive naturalist walk that leads to spectacular Puerto Don Juan Bay. An amazing easy desert walk that brings the Sonoran desert, plants, reptiles and fossil rich and wind cave geology up close as you cross between these two magical bays. (B, L, D)
Optional PM Activities
Snorkeling with the nearby sea lions, soft coral snorkeling Jump in the shallow waters with snorkeling gear for up-close encounter with friendly curious Sea Lions at our local rookery followed by easy soft coral, sea sponges, anenomes and tropical fish snorkeling close from Las Animas.   World-class sea kayaking This is sea-kayaking heaven for both beginners and seasoned pros. Enjoy sit on top and expedition class kayaks as you explore countless desert beaches, rocky points and marine life. Easy naturalist led desert walks This Sonoran desert is rich with unique cactus, plants, flowers, birds, reptiles and geology influenced by the Sea of Cortez. You will not find other places on the planet like. This includes towering Cardon cactus over 40' tall and more
Day 6: Scenic Return to San Diego
Morning breakfast, nature free time, pack lunch, and return to LA Bay with whale, dolphin and bird viewing on the return boat trip. Mother nature is abundant. You never know what you will see. A scenic return to San Diego arriving approximately at 4 – 5PM. (B, L) .
Enhance your Quality of Life