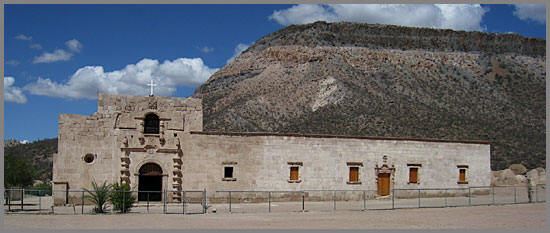 Baja Cave Paintings
The Famous Mission San Francisco de Borja
Mountain, Desert & Beach Combo • El Montevideo Cave Paintings
Las Animas Eco-Lodge • Horseback Riding • Hiking • Small Groups
El Montevideo: Baja Cave Painting
Enjoy 2 days of horseback riding and hiking as you explore the magnificent Baja cave paintings of El Montevideo. By night you'll find yourself gazing at the stunning night sky from the relaxation of a hot springs oasis flanking the preserved Mission San Francisco de Borja. Add another 4 days of multi-sport Eco-adventures at Las Animas Eco-lodge and you've got the ingredients for a Baja eco-adventure holiday you won't soon forget.
Mission San Francisco de Borja
These Cochimi Indian pictographs are 5000-year-old, the caves, along with the Spanish Jesuit mission established in 1768, are a few of the least visited cave paintings and missions in Baja. Mission San Francisco de Borja, is just 1 1/2 hours outside of Bahia de Los Angeles, located on the Sea of Cortez. This trip offers a combination of the very best Baja cave paintings and Baja Missions in addition to the areas spectacular beaches and mountains. Baja Airventures gets you there quickly in our private planes and vehicles direct from San Diego. There are no other soft adventures of this kind offered elsewhere in Baja.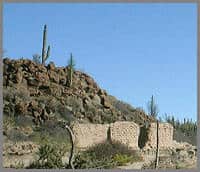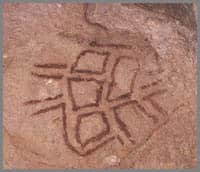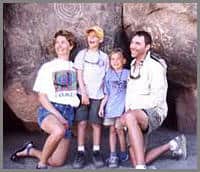 Enhance your Quality of Life
Baja Cave Painting & Spanish Mission
Las Animas Eco-Lodge based
All inclusive including:
Private air carriage to the Sea of Cortez from San Diego
Mission/ Cave Painting Departures: Year Round to Las Animas Eco-Lodge
4-day trips depart Thursday 7:00 AM returning Sunday 5:00 PM 6-day trips depart Monday 7:00 AM returning Saturday 5:00 PM Custom and longer trips available *Please add 13% Mexican government IVA Tax & 3% Marine Park fee*
Custom and longer trips available
Kevin was a thoroughly professional pilot and a totally captivating host and guide. The trip was spectacular. What I enjoyed most of all was the solitude.