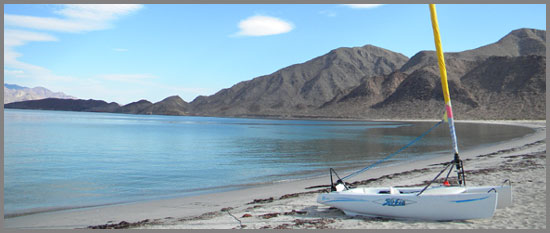 Baja Mexico Map
Geography • Marine Mammals • Birds • Plants • Fish
This Baja Mexico map of the peninsula
reveals a mountainous desert that stretches more than 800 miles south from California's temperate zone to the tropics at the peninsulas tip. The Sea of Cortez in the east separates Baja from the mainland portion of Mexico, while the western shore is met with the Pacific Ocean. The center of the magnificent peninsula is mostly covered by a series of mountain ranges. The northern granite peaks of the San Pedro Martir range reach more than 10,000 ft while the southern volcanic mountains average 3,000 ft.
Adventure & Ecotourism Baja Mexico Map
A large majority of the mountains have very steep eastern slopes and tend to show a much more gradually west facing side. A sequence of broad plains make up much of the landscape of the peninsulas central and southern half. An intricate lagoon system has formed where these plains meet the coast of the Pacific. Lagoons such as Scammons and San Ignacio, form much of the breeding waters for the California Grey Whale. Best of Baja's Whales Both coastal landscapes of the peninsula are dominated with islands, with the most in the Sea of Cortez. More than 20 pristine islands form to create the Midriff Island Region, while the second largest island of the Sea of Cortez, Angel de Guardia, just offshore from Las Animas Wilderness Lodge, our the jewel of our destination. The Canal de Los Ballenes (whale canal) separates the multitude of islands from Las Animas.
Weather: Las Animas Eco-Lodge
Baja is blessed with a microclimate that is created through a deep water upwelling. This keeps our summertime temperatures a good deal lower than any other area in the Sea of Cortez. Between 72F at night and 95F in the daytime.
| | | |
| --- | --- | --- |
| Average Temperatures: | AIR | Water |
| May – October | 66F – 95F | 68F – 80F |
| November – April | 40F – 90F | 60F – 68F |
Annual Rainfall is 2 – 3 inches, mostly in the winter months
Las Animas is a secret untouched Baja gem offering the kind of escape from civilization you'd expect to travel days instead of hours to reach. Without a light or slightest evidence of human activity in sight, nature goes wild and puts on quite the show! My family and I saw blowing whales, leaping dolphins, lazy sea lions and acrobatic osprey. Las Animas truly is a "one-of-a kind" place offering a unique, natural vacation that can only leave you well tanned and thoroughly relaxed. Long live Las Animas! Long live Baja!
Enhance your Quality of Life