Great News! last Year a Record for California Gray Whales
Check Out These Amazing Baja Gray Whale Videos
According to the American Cetacean Society, Los Angeles Gray Whale Census and Behavior Project, which for 32 years has monitored the number of whales passing by the Palos Verdes Peninsula, a record number of whales have migrating south past Southern California from the Arctic  this season.
The project counted 504 whales heading south, more than any year heretofore. Those 504 whales only included whales apparent to the naked eye, but that number surpasses the number of whales counted for an entire season in 11 of the 31 years.
During this migration season extends between November to January, an estimated 15,000 gray whales swim from the Arctic to Baja California. The return north with new born babies from February – April.
Want to Pet a Full Grown Gentle Grey Whale? Here's How…
Petting Baby Whales – Best of Baja Whales, Dolphins & Sea Lions
Check out this cool aerial footage of a newborn gray whale and its mother off of Southern California.
Cool Aerial the Sea of Cortez and Videos of Baby Gray Whale and Mother
This is a 6-day all-inclusive whale watching trip departing from San Diego by includes Baja whale watching on both the Pacific Ocean AND staying in the the #1 Tripadvisor Baja Specialty Lodging award

Las Animas Ecolodge on the Sea of Cortez.

All in one trip. No other whale watching tour operator has a trip like this. period.
Lucky whale watchers get the chance to meet a friendly pod of grey whales.
These Baja Gray Whale Videos by wildlife photographer Mark Carwardine, used a drone give an aerial view, captured these magical moments in one of the famous lagoons along the Pacific coast of Baja California, Mexico. The enthusiastic animal lovers in the boat were also able to film their interactions with the grey whale mothers and their calves.
Whale Watching Trip in Baja Sur, Mexico
The gray whales migrate from Canada and Alaska to these Pacific ocean lagoons to give birth, and some of the whales seek out human contact: you can pet whales! These Baja gray whale videos  in Laguna Ojo de Libre (Scammons Lagoon) which is where Baja AirVentures' does their "Best of Baja" whale watching trip.
 Three Separate Baja Whale Watching Tours
#2: The Ultimate Baja Whale Shark Experience:
We also offer Baja Whale Shark Tours on the Sea of Cortez August through November. Here's your best opportunity to view these gentle giants, so near to the US.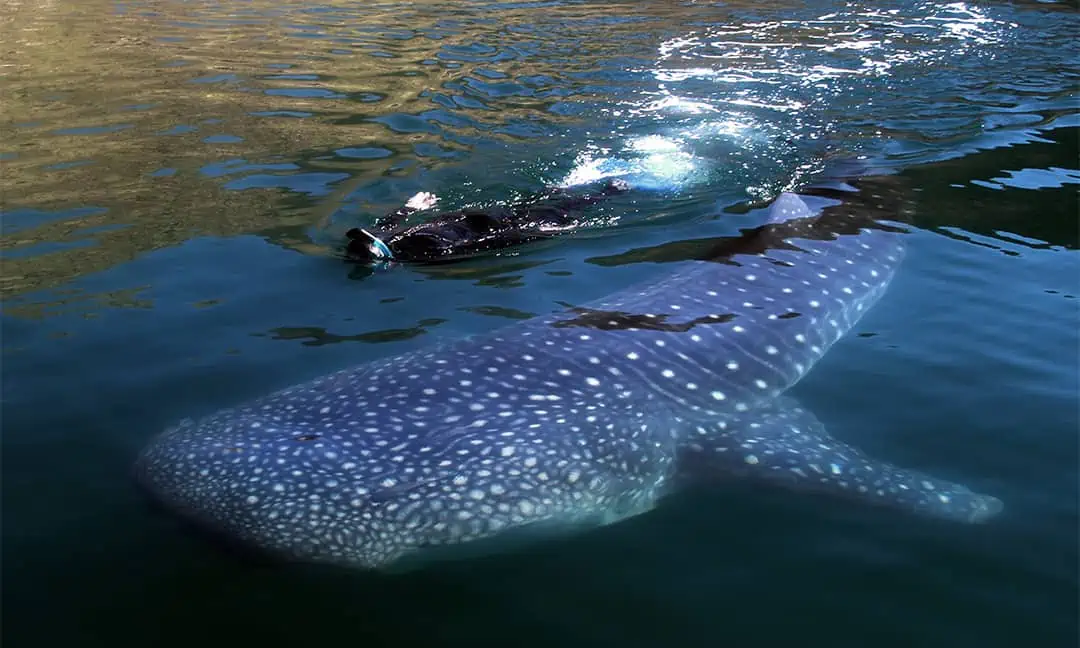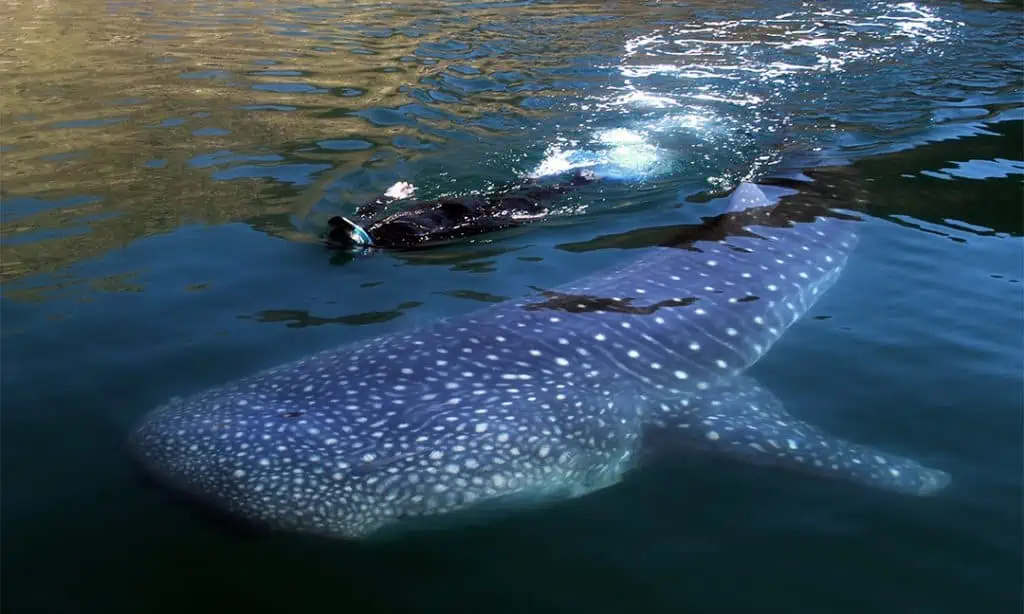 #3: Year Round Whale Watching & Multi-Sport Fun: Sea of Cortez
Las Animas Eco-Lodge on the Sea of Cortez has year round Fin Whales and Blue whales and more. Directly in front of our bay is the "Canal De Ballenas" (Whale Canal) where at any given moment you may have fin whale sightings. These majestic creatures are the second largest whales in the world. You may have the chance to see one of them from your yurt's patio spouting at a distance. Our captains are always ready to take you to have a closer look in our boats.
Got Questions on Baja Whale Watching & Tours in Baja?
Contact Kevin Warren at 1-619-421-2235  contact@BajaSpirit.com for more info or make your booking today.