Baja Airventures Baja Eco-Lodge Assistant Manager Position
Wanted: World Class Baja Eco-Lodge Manager (s) Starting August 2020
The #1 Specialty Lodging in Baja California
Location: Las Animas Eco-Lodge, Bahia de Los Angeles, Baja, Mexico
Salary: Better than outdoor industry standards
Type: Contract Seasonal
Preferred Education: 4 Year Degree
Management Experience: 4 Years+
About Baja AirVentures and Las Animas Eco-Lodge:
Since 1989, San Diego based Baja Air Ventures has provide
d fly-in multi-sport soft eco-adventure vacations and running
Las Animas Wilderness Eco-Lodge
throughout Baja, Mexico for 1,000's of happy guests. This is a great opportunity to increase your hands-on business, operational and management experience in the booming adventure tourism industry.
http://www.bajaairventures.com/wildernessretreat/
Baja Air Ventures and Las Animas Wilderness Eco-Lodge is the #1 Tripadvisor specialty lodge in all of Northern Baja, Mexico with Certificates of Excellence for 2015, 2016, 2017, 2018 & 2019
We are a growing company with clients from around the world.
Overview Video of Las Animas Ecolodge, Nature and Fun
What We Seek:
We are searching for a bi-lingual single person or couple with the "wow factor" to co-manage our
remote
Eco-lodge on the Sea of Cortez in Baja, Mexico. This is a unique opportunity to live, work in and experience one of Mexico's most unique and diverse eco-systems. We're looking for a confident, energetic individual or couple to take over the management of our 9-yurt lodge and 8 members of staff. Reporting to our owner located 300 miles away in San Diego, the successful candidates must have previous remote experience, relish the outdoor life and speaks Spanish fluently. This is a seasonal job, starting August 2020 and finishing April 2020. Our current low season is May, June, July & November. High season is: August – October ( whales sharks) , Xmas Holiday/ New Year, February – March (Best of Baja whale watching trips). For the right candidate and skills, plus with additional bookings season could be longer.
"This is right up there with Machu Picchu and the Galapogos…"
Dave Wiggins, 40 Year Adventure Travel Ecotourism Professionals
To ensure you qualify to apply for this position, please read the following personality attributes and minimum requirements before sending us your CV.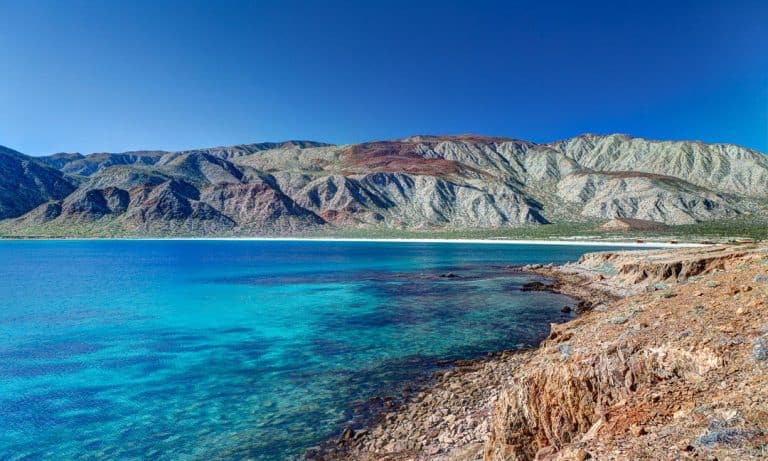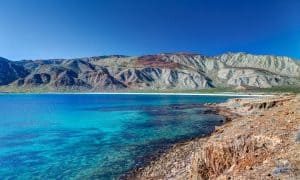 Baja Eco-Lodge Assistant Manager / Guide Main Job Responsibilities:
Full responsibility for guests during their stay from arrival to departure.
Ensure ultimate guest relations in the lodge and that the "at home" personal attention levels are always maintained.
Hiring, management and training of the camp staff.
Managing and leading the Housekeeping and Guide teams.
Managing and working with pilot/guides.
All administration pertaining to purchasing and logistics including orders, stocktaking and occasional re-supply runs to San Diego.
All administration relating to staff including registers, staff welfare and staff discipline.
Managing / supporting cook with any matters arising in the kitchen department.
Maintain the highest standards of housekeeping and maintenance to ensure that cleanliness, order and function is not compromised.
Scheduling and over seeing of maintenance of all equipment: boats, vehicles, sport equipment and lodge facilities.
Effective financial management through the administration of budget, orders, stock control and regular reporting.
Effective communication and maintenance of lodge relations.
Constantly looking for ways to further "green" initiatives and operations.
Guiding daily excursion by boat and on foot. ( backup guide)
Baja Eco-Lodge Assistant Manager Desired Personality/Character Attributes:
A strong, assertive person or couple that is adventurous and loves the outdoors.

(Remember: This is a remote location and it can be tough!)

Excellent "people-handling" abilities (both individuals and teams).
Able to resolve staff issues or problems with support of main office.
Overall great communication skills.
Attention to detail. You have a good eye and future-pace well. This means possessing a well-organized and highly structured approach to work.
A developmental approach to staff.
A hardworking, energetic and cooperative manner.
High standards of service excellence and a passion for the industry.
Very sound knowledge of business and management principles.
Collaborates well with management.
Willing to be coached and get support to further develop their leadership capabilities.
Able to deal with pressure and work unsupervised for extended periods of time.
A multi-talented "MacGyver type" individual that can fix and solve mechanical and operation challenges – in a very remote environment.
Baja Eco-Lodge Assistant Manager Minimum Requirements (non-negotiable):
A minimum of four years' tourism/hospitality related work experience in a small lodge, resort or hotel (preferably in a remote outdoor setting)

One years with MANAGEMENT of a team of 4 or more
Minimum of 8 years' total work experience.

Must demonstrate emotional intelligence and high maturity.
Able to manage time for daily tasks and longer term projects.
Super planner: experience creating and implementing short and long term action plans at lodge, Baja operations and with leadership team in San Diego.
Good at training and insuring staff follows simple daily &weekly tasks, schedules and areas or responsibility.
Good at holding team members accountable to their responsibilities and company standards
Strong administrative skills.
A degree/diploma is a bonus
Exceptional food and beverage knowledge.
Financial management ability.
Understanding of housekeeping and maintenance procedures.
An understanding of best practice in terms of sustainability and its importance.
To apply for this Baja Eco-Lodge Assistant Manager position, please forward the following 5 items by July 10, 2020 to timsells4u@gmail.com & Bajaair@cox.net
Your cover letter explaining why your previous professional experience supports your success in this position.

Your CVs with required qualifications from above.

Your monthly starting salary request (within adventure travel/ecotourism industry standards) for full time operations.

A minimum of three contactable references.

References (email and telephone details for all recent references).

A friendly, professional, clear, head and shoulders photograph.
Applications lacking the 5 items above may be automatically rejected. Think before you submit.