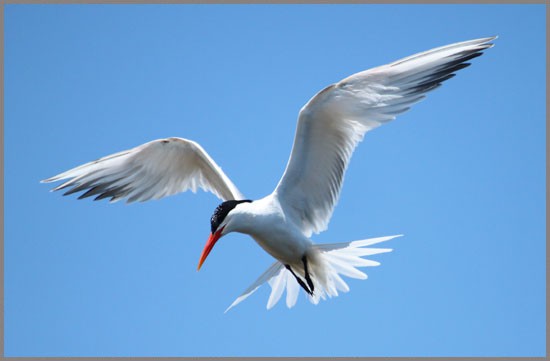 Baja Bird Watching Nature Tours
The Famous Isla Raza, Midriff Island Region, Sea of Cortez
Las Animas Ecolodge
#1 Specialty Lodging in All of Northern Baja


Kayaking • Snorkeling • Fishing • Sailing • Nature Tours • Bird Watching
Couples • Families • Singles • Private Groups • Special Events
If you love birding, nature and ecotourism and want to see one of natural history's great spectacles, then join us the end of April and beginning of May 2023 to visit the famous Isla Raza where over 90% of the world's Elegant Terns breed and nest. Isla Raza was Mexico's 1st bird sanctuary in 1964 and since then the numbers of Elegant Tern there have increased. Over 55,000 nests is typical on this small protected bird sanctuary. The two other species that nest on Isla Raza are the Caspian Terns and the Watch Listed Heerman's Gull.
Baja Bird Watching • Nature Tours • Whale Watching
Midriff Islands, Sea of Cortez, Baja, Mexico
Isla Raza – One of the World's Best places to See Elegant Terns
— Only 2.5 Hours South of San Diego by Private Air Carrier —
These two special limited-departure, small group trips starting April 20, 2023 will provide you an experience that few humans get to see. The abundance of life above, on and below the waters of the Midriff Island region are diverse, rich and truly amazing. This special region has been coined the "Galapagos of Mexico" because of the over 170 species of sea birds, and abundance of whales, dolphins, sea lions, 3,000 species of fish, uninhabited mountains and deserts as far as the eye can see.
5 Star Experience
If you are that kind of special person that likes 1) mother nature… 2) solitude…3) appreciates quiet and being surrounded by nature away from the crowds…4) eating local good Mexican food…5) wants to kayak, swim, snorkel, see dolphins, whales, pelicans, all kind of birds…6) fish, paddle, hike to the desert just behind your magnificent yurts… and 7) learning, this place is for you!
– Senior Contributor Comment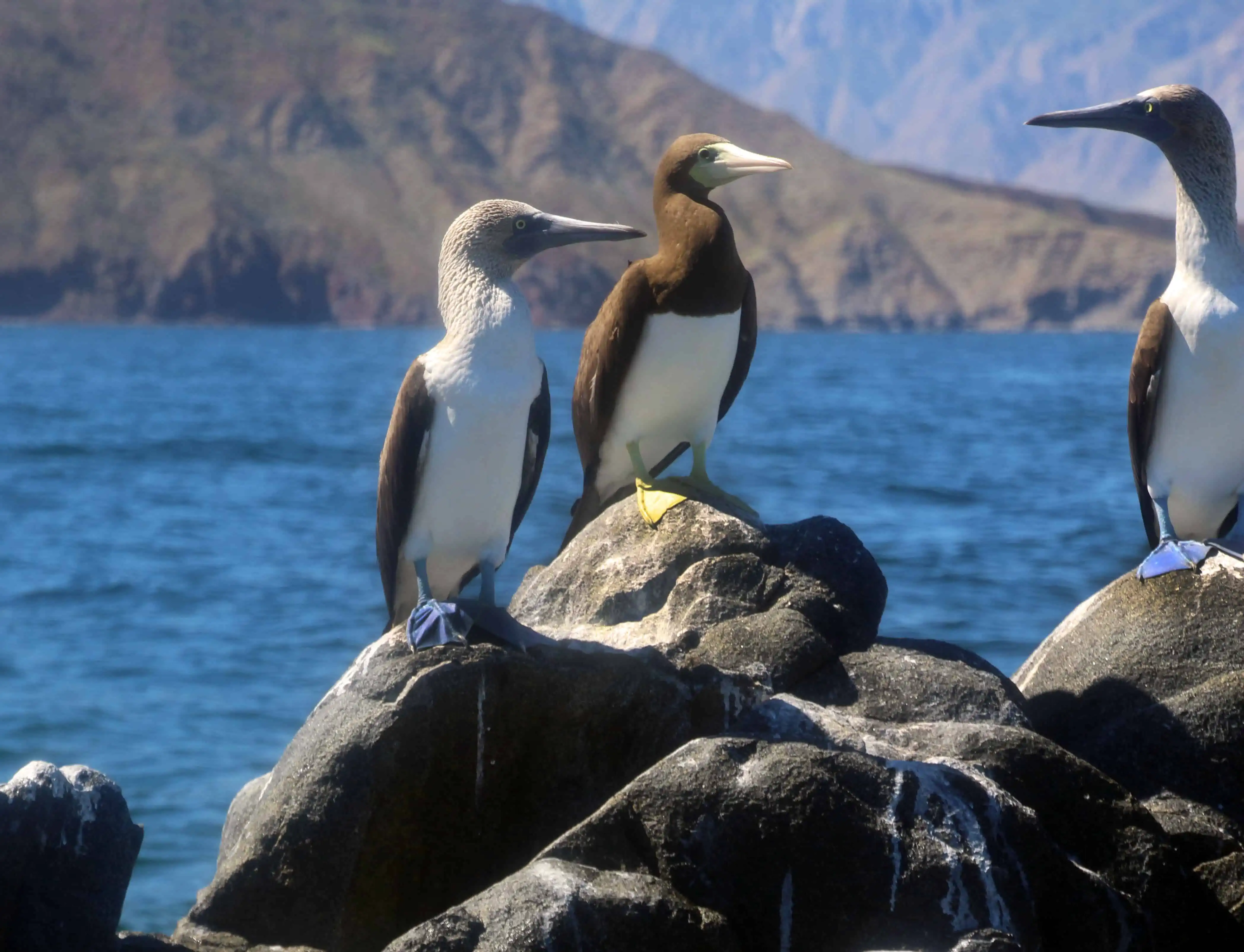 AVAILABILITY
Dates below are already set, plus more available! Call 800-221-9283 or 1-619-421-2235 or Email for availability if date you want not listed.
2023 Baja Bird Watching Nature Tour
Las Animas Wilderness Ecolodge based
Isla Raza & Sea of Cortez Bird Watching
April
* Call for Availability if Date Not Listed *
6-day All-inclusive @ $2695*
6-day trips depart Monday 7:00 AM returning Saturday 5:00 PM
*Please add 13% Mexican government IVA & 3% National Park Tax*
Custom and longer trips available
All Inclusive Baja Bird Watching Itinerary
John Steinbeck's "Galapagos of Mexico" – Midriff, Islands, Sea of Cortez
The countless isolated bays, estuaries, islands and beaches and the rich waters of the Sea of Cortez and Las Animas Wilderness Ecolodge makes for the perfect base for an amazing Baja bird watching nature tour holiday. Look forward to countless Sea of Cortez birds, pristine Baja nature and an outdoor holiday you will always remember.
Scientific Data on the Birds of Isla Raza
Isla Raza island lies about one-third of the way down the 1000 km long Gulf of California (Sea of Cortez) and about 12 miles from the coast of Baja California. The long narrow Gulf supports one of the most diverse and rich sub-tropical marine ecosystems in North America. Isla Raza is one of a number of important seabird islands in the Gulf. The ornithological significance importance and conservation of Isla Raza (28°49'N, 112°59'W) rests on the nesting of three Larids endemic to Northwestern Mexico: the yellow-footed race of the Western Gull, the Heermann's Gull and the Elegant Tern. The Heermann's Gull colony is one of only eight known colonies and is easily the largest, containing perhaps over 90% of the species' nests. The majority of the world's Elegant Terns are said to nest on Isla Raza. A fourth laird, the Royal Tern, also nests on the island. An Alcid endemic to Northwestern Mexico, Craveri's Murrelet, may well still nest on Isla Raza. Your Baja bird watching nature tour will give you many chances to see this important bird sanctuary plus countless other bays, inlets and islands teaming with Sea birds, marine mammals and abundant nature. Join us. You'll be glad you did.
Email Kevin or Call 800-221-9283 Today to Reserve Your Sea of Cortez, Baja Bird Watching Nature Tour
Over the Top Remote Escape to Baja
"What a great adventure…Kevin's entire staff, from the pilot to the maids to our ponga captain were all gracious and helpful. This made our Baja getaway that much more enjoyable…I highly recommend these guys…just awesome!."
5-Star Rated


Enhance your Quality of Life
Day 1
Enjoy a scenic 1-hour flight from San Diego to San Felipe, Mexico on the Sea of Cortez to clear customs and bio break. This is followed by an amazing scenic flight along the Sea of Cortez over countless turquoise bays and pristine islands to the Midriff Island Region. The adventure continues with a scenic 1 hour transfer by boat along the Baja coastline and past more amazing bird filled islands to Las Animas Ecolodge. Spend the afternoon exploring the area and bird watching regionally near the lodge. Evenings are filled with fantastic food, a campfire at the beach; star filled skies, fun, tranquility and solitude.
Day 2 - 5
Your mornings will be spent bird watching and connecting to nature at Isla Raza, other nearby islands,  bays and an amazing mangrove estuary all part of this super-abundant part of the Sea of Cortez.  After AM bird watching and nature exploration we return to Las Animas Ecolodge for a delicious fresh lunch. Your afternoons give you lots of opportunities for more fun, nature tours and sport at
no additional cost
. This includes: snorkeling with the nearby sea lions, whale watching, world-class sea kayaking, incredible desert and shoreline walking for all levels, fishing, more birding, off-shore islands exploration by boat, sailing, finding your own private cove with no one around, and simply relaxing in your private hammock taking in the peace and serenity of this true untouched Baja wilderness area
Day 6
Look forward to morning bird watching nature tour regionally, picnic lunch in route to local village with possible of bird watching, whales and marine mammal viewing on the return boat trip. Then you'll get to enjoy the similar 2-part scenic return flight to San Felipe for a short break, then onto San Diego arriving between 3 – 5PM PST.